Does this sound like you?
"I have had the K4 for about six months but I am afraid to use it! When I took it out of the box it looked difficult so I put it away and haven't touched it since."
"I struggled with the depth of the pocket holes and ended up too shallow. Now I am nervous to try it on a new project"
"Not sure which board to drill into or which way to turn the board. Or how to determine the depth of the hole."
I know.
It can be easy to get overwhelmed!
I want you to succeed!
I will guide you step by step through every single thing you need to know and watch out for and how to use through the course!
In the end - my goal for you is to be confident in using the Kreg Jig to build anything you want!
"Anika had a thorough knowledge of the subject matter, presented it in a clear and interesting manner and willingly answered any and all questions. All in all, a very helpful and interesting experience." - T. Rhodes
"This was a great intro to Kreg Jig Class for newbie woodworkers. It was really helpful that you had several different Kreg Jig models and were able to demonstrate how to use them." - N. Wagner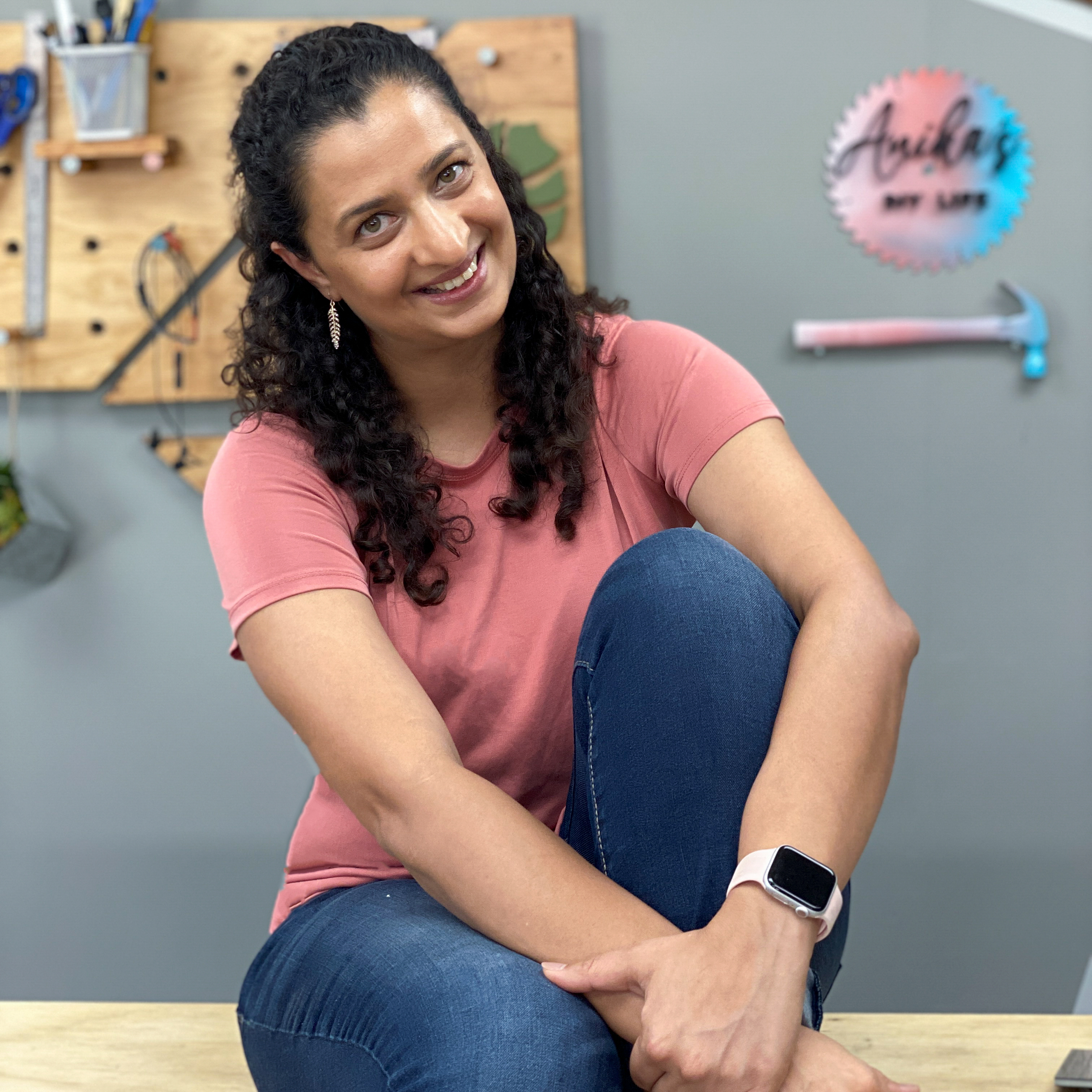 About your instructor
Anika Gandhi is a self taught woodworker and DIYer and believes that anyone - with the right tools - can make any piece of furniture they want!
Her very first tool after a power drill was the Kreg Jig. Using it to build her first pieces of furniture had her hooked!
After using it for over 8 years, building MANY pieces with it, and realizing that many of her readers were struggling with it, she created this step by step video course to help everyone!
Frequently Asked Questions
Are the Lessons in the course pre-recorded?
The lessons inside this course are pre-recorded so that you can start the course and work through the lessons at your own pace.
How long do I have access to the course?
You have lifetime access. You can watch it as many number of times you like, and come back to watch it number of times. If I update the course or add new information, you will have access to all of it!
Which model of the Kreg Jig does this course cover?
The course shows you how to use the K4 and the Kreg320 which are both great representations of the various pocket hole jigs. In fact, you don't need a Kreg brand pocket hole jig. All the concepts are applicable to any pocket hole jig.
What do I need to get the most out of this course?
As with any hands-on course, it is best to follow along with the lessons to understand the concepts and see how everything works. The first module includes a list of items you will need to work through the course. It is possible that you will have most of that available in your scrap wood pile!
If I am not happy with the course, can I get a refund?
Unfortunately, I am unable to offer you refunds at this time. I have put my heart into creating as detailed a course as possible and if you find something lacking or if you need help, please feel free to reach out by email.
This course is an online course. No refunds will be issued on this digital product. Anika's DIY Life, Fourteen Three Media LLC will not be held liable for any injuries, damage, or loss sustained due to the student's project. Please adhere to all local building codes and refer back to the instruction manual for your specific tool instructions.